A Journey of Happiness - Ha Giang - Vietnam
25 March 2019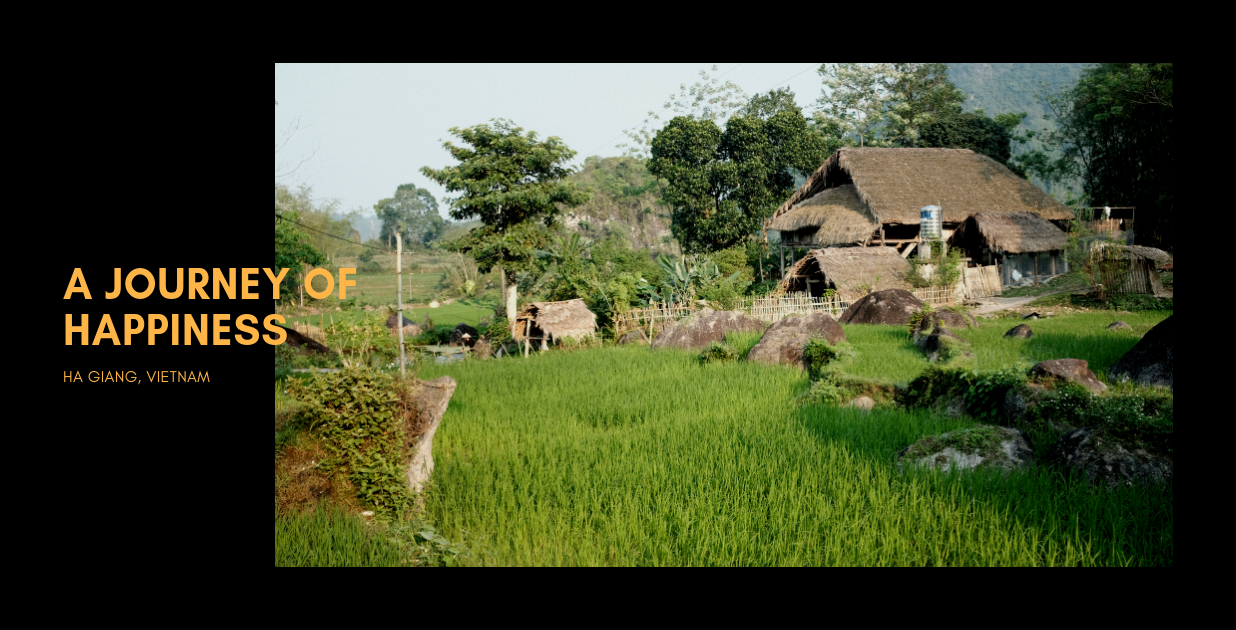 A Journey of Happiness

Day 1: A Journey to Ha Giang

6:30 am, Thursday March 22, 2019
Morning sunlight woke up all the corners of the streets. The sounds of cleaning pavements, the engine of car picking up a man to work and even the smell of fresh breads wafting from the bakery store in the corner make this typical morning of Hanoi more special.

6:45 am - I arrived early to the place we arranged for pick up - Ms Tho's house. Ms Tho is a leader of this trip. She spent more than 11 years to learn about the place that we are going to explore and been helping to develop it as a destination for tourism. We called her "Thopedia" because she knows "literally" everything.

Crack [the sound of door opening]. Tho just opened the door and carried out a luggage for the trip. She welcomed me with a smile and said: "You are on time".
"I am", I said.

Ms Tho and I are waiting to the car to pick up for a 4-day trip to explore one of the largest province in the Northern Vietnam - Ha Giang.

The car arrives in just when I finished quick my breakfast. I can hear Lien's voice from inside the car. Lien is a Sales Manager for Spanish market, joining this trip to survey and make programs for Spanish clients. We passed by all the street in downtown and stopped in front of the hotel, located in Hang Be street to pick up the last and main person in this trip - Mr. Roberto, experience character. He is from Spain.

We were all set and heading to the freeway DCT05 to go straight to Ha Giang. Everyone was looking outside the window, enjoyed seeing the busy city with chaotic sounds while remaining the silence with morning faces.

Ha Giang appears in my mind with not much than an image of poor province, a home of diversified ethnic minority groups that isolate to outside world. It makes Ha Giang a curious place to me.

We arrived to Ha Giang after more than 300 km trip, taking 7 hours in the car. The tiredness appears in each of the faces, except Ms Tho. She never gets tired and her energy inspires us so much during the way to Ha Giang. We met Mr. Su - Director of Ha Giang's Promotion Center, a friend of Ms. Tho afterwards. Mr Su talked about Ha Giang, a potential and untouched destination for tourism with a passion and exciting voice.

More importantly, Mr. Su is a subordinate who works in Ha Giang because he loves this land and settles here. He is the first person to do tourism with passion and love, so he has sought all ways to help Ha Giang develop tourism and is a pioneer to make homestay in ethnic villages. Until now, there have been many homestays in Phuong Do commune and the Tay people know how to do tourism thank for his work.

After a quick conversation between Mr. Su and us, we decided to explore some villages of Tay ethnic minority in Ha Giang. The way to those villages is narrow, winding mountain roads, but you would be rewarded with breathtaking, ever-changing panoramic views of the land and terraced fields. When we arrived at Hạ Thành village, Phương Độ commune: there were many international visitors from England, France and Spain visiting around the village and resting in the old stilt houses of the Tay people.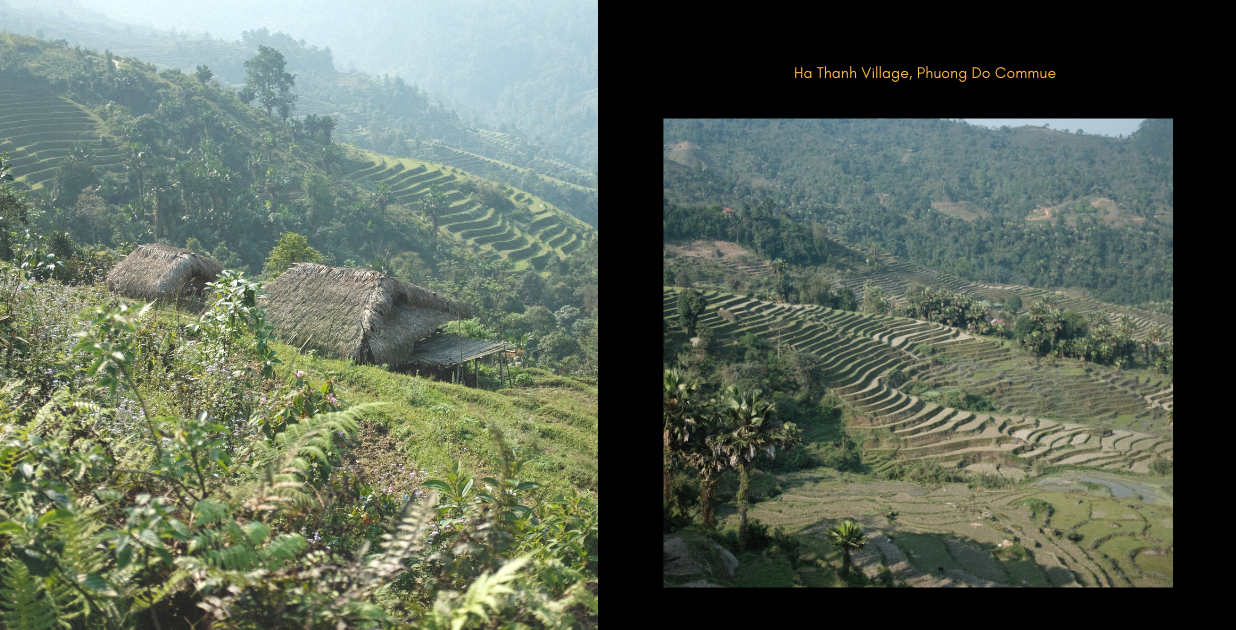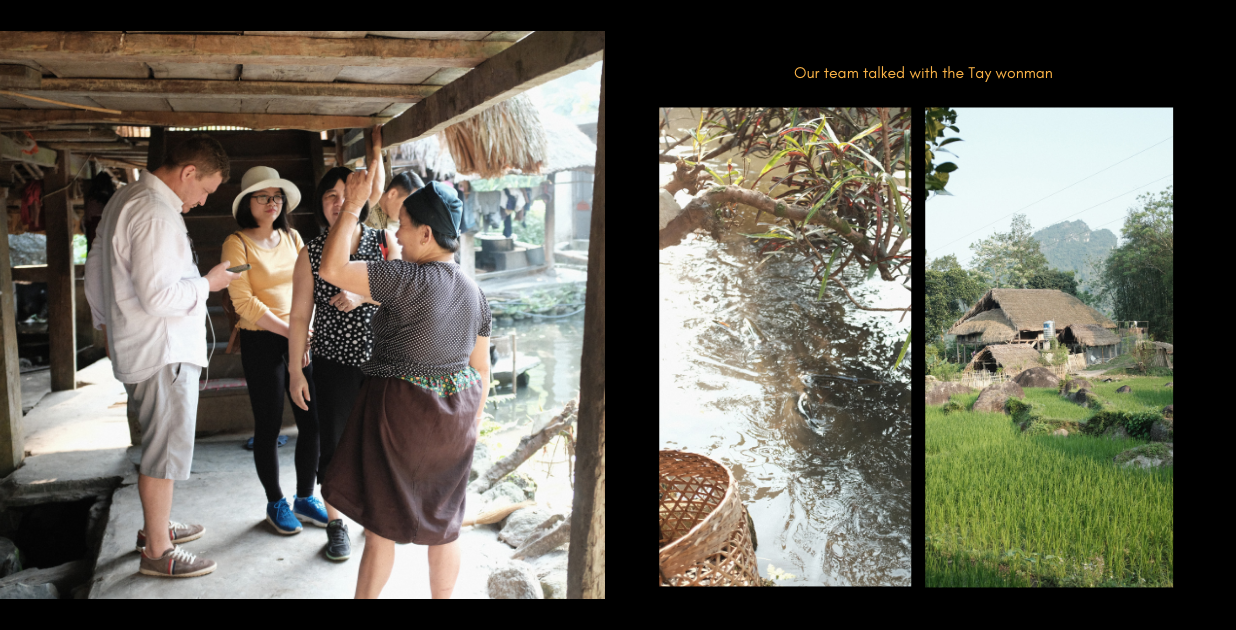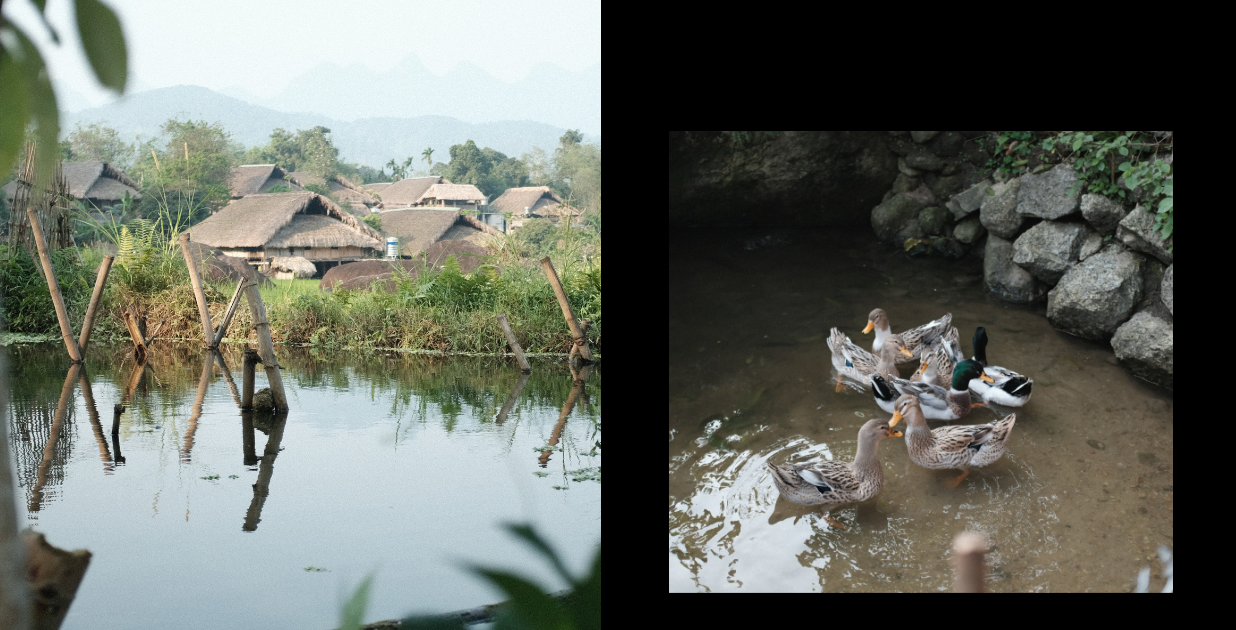 Sunlight is going to set, reminding the night to fall in Ha Giang. We are heading to the Thanh Thuy Border Gate between Vietnam and China, passed by all beautiful landscapes along the road. Thanh Thuy Border Gate in the evening is not busy as I imagined because the gates close at 4pm in China side and 5pm in Vietnam side.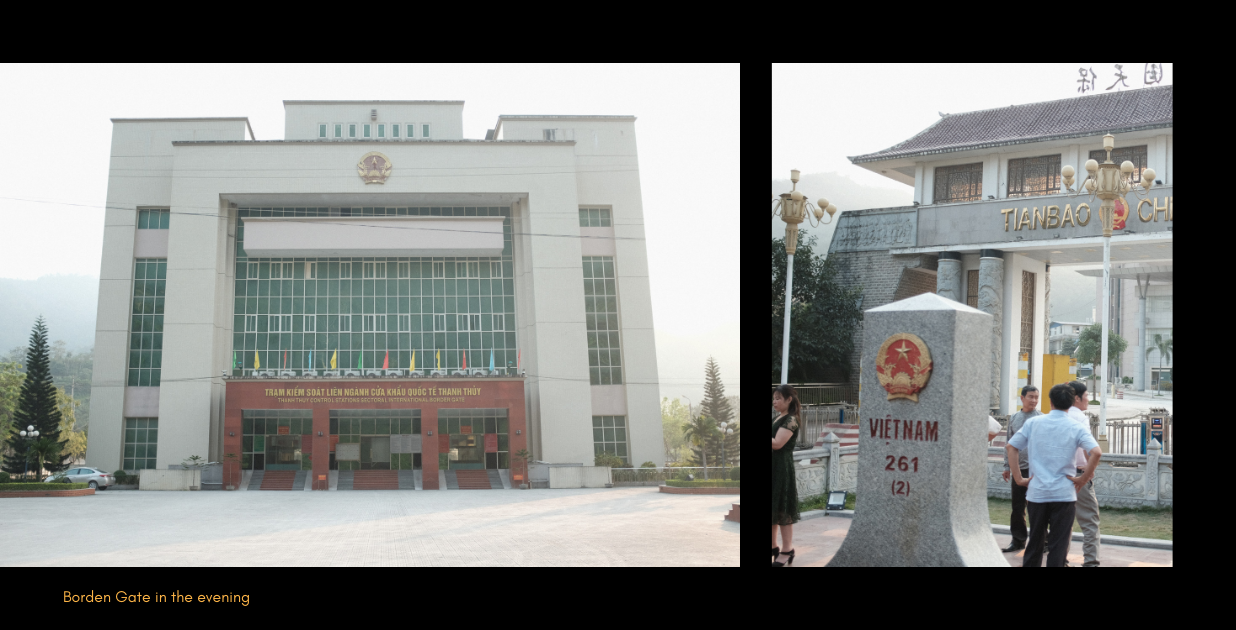 After a productive day, we returned to and stayed in A.Su homestay - one of the first homestay in Ha Giang. Mr. Su treated us with many local foods and drinks. My team and I experienced one night at A Su homestay.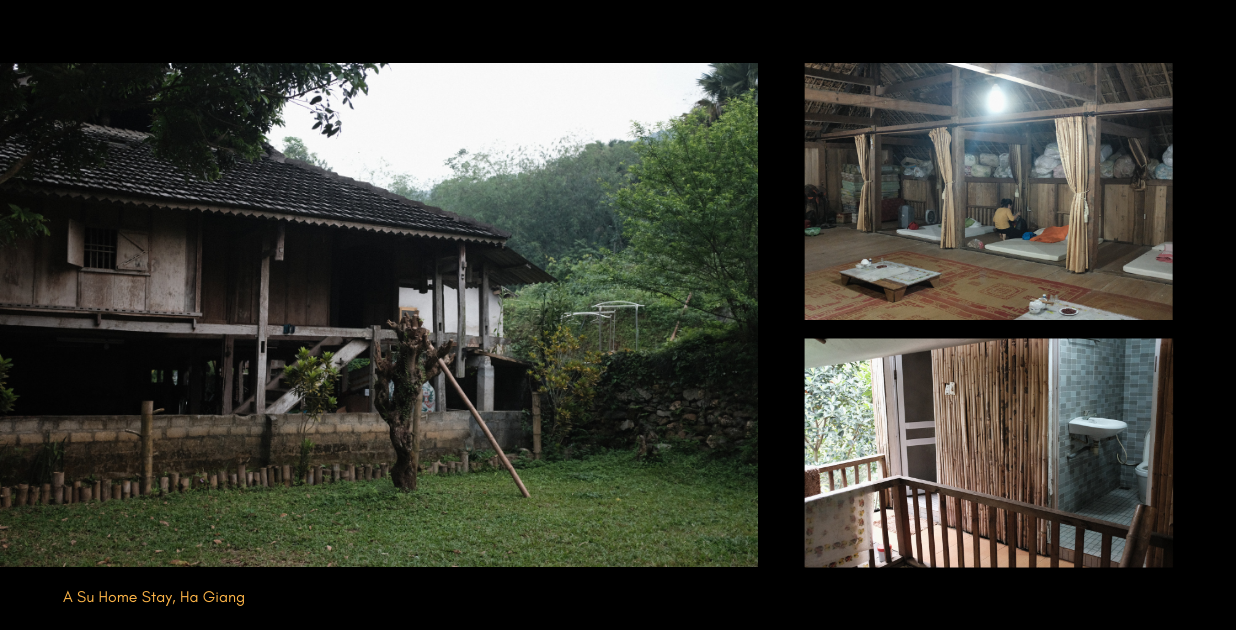 Day 2: The Road of Spectacular Landscapes

Morning sun rises early in the North and the silence seems to be teared by the relentless crowing of roosters. Everyone woke up and prepared for the long day trip today. As planned, our trip started from Ha Giang - Quang Ba Heaven's Gate to Yen Minh and ended in Dong Van stone plateau.

The trip from Ha Giang to Quan Ba Heaven's Gate takes one hour and half with many hairpin turns climbing up and down the mountainside. Quan Ba ​​heaven gate is the first gateway to the global geopark of Dong Van stone plateau. Along the road, we enjoyed sightseeing the most beautiful scenes that we could not find in any places and learned more about Ha Giang through Ms. Tho's stories. We took a break at the rest station nearby the Gate, tried to breathe some fresh air and enjoyed beautiful landscapes.

I asked Tho: "Why they called here a Heaven Gate?"
"Because Quan Ba ​​heaven gate is located on the highest peak of the pass from Ha Giang to Quan Ba. The French once built a giant door made of 150 cm thick gnashing wood at the gate of heaven in 1939. Today that gate is no longer, replaced by a sign with both Vietnamese and English letters entitled "Heaven Quan Ba ​​". She said.


From Quan Ba Heaven's Gate, we continued to visit Lung Tam Village before heading to Yen Minh in afternoon. Lung Tam Village is located in the middle of the four-year cloudy mountain peaks. This is the residence of the White H'Mong ethnic people, famous for their linen weaving, indigo dyeing and beeswax painting. Every White H'Mong woman reaches adulthood with her own fields to grow flax. The flax fields grow even straight over just two months for harvesting, the White H'Mong people cut and then dried them to process into fibers.

We was going to met Ms.Mai, the White H'Mong artisan who restored the tradition of linen weaving in her small old house – "a studio" that we might call it. We saw Ms. Mai was weaving linen by her old traditional looms when we arrived. Roberto was so excited to explore around the studio while Ms. Tho started to introduce us to her.

Ms. Mai is known as an artisan that helped and restored the tradition of linen weaving. She has taught children in village to sew and weave and pays them for their products in the way of encouraging to keep the tradition alive and making allowances. Ms. Mai and other artisans in village passed the traditions to the next generation here by that way. Her works is recognized and she is one of 50 influenced women nominated by Forbes Vietnam.

We said goodbye to Ms. Mai and left the village behind to continue our journey, but the spirit and her story will be kept in our hearts. The road to Yen Minh has many hairpin turns that might make you a butterfly in stomach, but you would be rewarded with magnificent landscapes along the road as always. We arrived to Yen Minh with hungry and tiredness after a long trip in the morning. We chose a local restaurant for our quick lunch with traditional food.

Our journey continued to Dong Van, passing by some "must see" tourism attractions on the way.

Since being chosen as the background for the breathtakingly beautiful footage in "Pao's Story" movie, the famous house of H'Mong people was once well-known, now becomes the most interesting destination in Lung Cam village, Sung La.

Sung La is no longer a strange name to lowland visitors each time coming to Dong Van. Also known as "Flower of the Plateau", Sung La attracts tourists because of its rustic beauty and the tranquility of the highland, particularly seen in a small village named Lung Cam.Located between the romantic valley, surrounded by grand stone mountains, Lung Cam Village of Ethnic Culture and Tourism is the habitat of more than 60 households, mainly Lo Lo, Mong and Han.

The entrance leads to the house across a weed meadow. Coming in the buckwheat blooming season, you can have a chance to see the scene in dreamy pink, seems opposed to the vast, icy mountains. The house is made mostly of soil, ancient roofs, stone shelves and columns.


Pao House

"Hurry up" - a voice from a far waking us from falling in love with this land. We seemed to hesitate to leave, tried to enjoy the moment like we never know when we have a chance to come back here.

The landscape of mountains on mountains covered by limestone appears more and more, I realized that we were entering to the Dong Van geological park. These ethnic minorities have lived here for centuries. They live on cultivating rice along the basins of the Nho Que River and corn on the rocky mountain slopes. Life may be tough, but most of the local ethnic groups still stick to their century-old traditions. It is easy for us passing by the Stone Plateau to get bewildered by watching local people plow in rocks, cultivate crops in rocks, build walls around their home with just rocks.

"Do you see it?", Tho said.
"See what, Ms.Tho?". Lien raise her voice. It has been a while to hear her exciting voice since the first day of the journey. Lien has carsick and also interpreted whatever people say into Spanish to fulfill Roberto's curiosity during the trip, which made her tired little bit.
"Vuong Palace", Tho said and pointed out the palace.

The car was climbing down from the pass, from this view the palace appeared clearly. The century-old palace is located in Sa Phin Valley in Lung Phin Commune, Dong Van District at the base of a mountain, backed by cliffs and topped by a mass of clouds. It is still the largest construction in the area and boasts special architecture style.

We arrived to the gate of Vuong Palace.
Ms Tho said: "You guys just come and visit the Palace. I will wait here because I have been here many times."
"You should come with us. I need you to explain the story of Vuong's Palace". Roberto said with a soft voice.
From the ticket booth, Lien already bought tickets for all and called us coming up to the gate. The entry ticket cost VND 20,000 for each visit.
Surrounding the Palace is a stone wall which is two metres high and 80 centimetres thick. We entered to the main house of Vuong Chinh Duc. Vuong Chinh Duc (1865 - 1947), known as the king of the H'mong or Meo ethnic minority group in the area, built the palace which cost 150,000 Indochina silver coins equivalent to VND 150 billion (USD 6.61 million). Duc earned his fortune from growing and trading opium.
The palace that is built from stone, fir wood and terracotta tiling in a combined Chinese, French and H'mong traditional architectural style. Covering a total area of 1,120 square metres, the palace was used as a residence and fortress during the Vuong Dynasty.
"Guess how much it is?". Tho asked us about the stone pillar footing with opium flower patterns.
"I bet it is cheap", I said.
"It costs 900 Indochina silver coins, equivalent to 1,000 kilogram of opium and VND 1 billion today. It is not cheap", Ms. Tho said to us.
Legend said, the most outstanding in Vuong Palace are two stone pillar footing with poppy shape and patterns. This is a respect to poppy plant, an ingredient of making opium that is a fortune of Vuong family. Two stone pillar footing was carved by the best artisans in Yunnan, China. Then, they used 900 Indochina silver coins to polish the surface.
The palace is divided into many areas such as dining room, bed room, kitchen, opium store, rooms of his wives, a prayer altar and an area for criminal executions. The Vuong family gave the palace to the government in 2004 and it has been turned into a tourist site.
The sun was going to set in Vuong Palace, and we were about to leave to Dong Van town. Before leaving we gave some notebooks, candy sticks and pencils that Lien prepared to random ethnic children that we met here. We know sharing is loving.
We left Vuong Palace, those smiles and waving hands from children behind, continued to the last destination of the day. We arrived to Dong Van town when the sun sets and stayed in Hoa Cuong hotel - one of the best and largest hotels in Dong Van.

"Dong Van town has developed so quickly", Tho said. She continued, "when I was in Dong Van in 2011, the town covered just a total of 200 meters". Dong Van by night is bustling enough, not too modern influence. We walked around to experience the life here.

Day 3: From the Northernmost point to the Spectacular Pass
Dong Van welcomed us with a morning's drizzle and cool weather. We already prepared for the weather's change thank for Tho's notice. Everyone kept themselves warm and ready to head the northernmost point - Lung Cu.
The road has many hairpin turns climbing up the mountainside, passed by some H'Mong villages. We decided to stop by the morning local market to capture rare scenes of local life. This was the most colorful market I have seen, colors come from ethnic people's clothes, and products they sell. I catched the shyness and wariness appears on their faces when Roberto offered to take pictures for them.
We continued the journey, taking 2 hours to arrive at Lung Cu. We visited a small village of Lo Lo ethnic group which is a small ethnic group in Ha Giang with population of 1.426 people. I was so surprised that they do homestay with a very good condition, even though the travel route is not easy.

We met a Lo Lo's woman. She was so kind to offer us a house tour when we asked.

Children watching Spiderman video.

We continued climbing up and down mountainside to go to one of the greatest pass in Vietnam - Ma Pi Leng. This was a spotlight of the journey that I have been waiting for since the first day of the trip. Before arriving to Ma Pi Leng, we passed by Happiness Road that famouses by its own story.
The National Road No. 4C Ha Giang-Dong Van-Meo Vac was decided to be built after North Vietnam was liberated and it took 6 years (1959-1965) to build a distance of approximate 300 kilometers. It was so difficult to build and so happy when it was done; therefore, the road was called "The Happiness Road". More than 2 million workdays were spent by youngsters of 16 nations from 8 provinces of North Vietnam. But what is unforgetable is the construction of the Ma Pi Leng Pass, the most difficult pass to build but also the most fascinating and beautiful pass to enjoy in Vietnam. It took the youngsters one and a half year to connect the 24 kilometers distance between Dong Van and Meo Vac Towns but the Ma Pi Leng Pass alone already took them 11 months or more than 330 days of hanging themselves on rock cliffs to make it through.

Ma Pi Leng, in H'mong's language means "Horse nose bridge". Some other literature sources argue it actually is Mau Pi Leng, describing the feeling of a mouse when it is going to fall into the clutches of the cat. Both explanations mean nothing else than the dangerous, breath-taking feeling of the traveller when passing by this pass. But perhaps only on this pass can the traveller feel the greatness of Mother Nature, due both to the deep canyon of the Nho Que river underneath and the surrounding high mountains, resulting in the height difference of more than 1km, which is added by vertical cliffs and barren rock deserts all around.
Source: Flamingo Redtours
Images: Flamingo Redtours